Do you plan to start an online store? Not sure if Shopify website vs wordpress which one is best for you?
E-commerce is turning into one of the most obvious business possibilities for today's entrepreneurs as the world continues to appreciate the advantages and convenience of online shopping. After all, there's no need for expensive real estate when you sell your goods online.
The two leading eCommerce platforms in the world are Shopify and WordPress, each of which has advantages and disadvantages. Your success as a business owner depends on selecting the ideal eCommerce platform for your needs. This article will provide you with a thorough comparison of Shopify and WordPress. To assist you in selecting the ideal solution for your eCommerce site, we'll break out when to use the Shopify website or wordpress.
Comparison of Shopify website vs WordPress & WooCommerce
It's crucial to discuss the fundamentals and emphasize what makes these platforms unique before we begin our detailed comparison of the two most widely used eCommerce platforms on the internet.
What is Shopify?
You can easily create an online store, collect payments, and manage your inventory from a single platform with Shopify, an all-in-one eCommerce solution. Moreover, you can manage an eCommerce site without having to deal with technical issues, such as web hosting, security, caching, etc.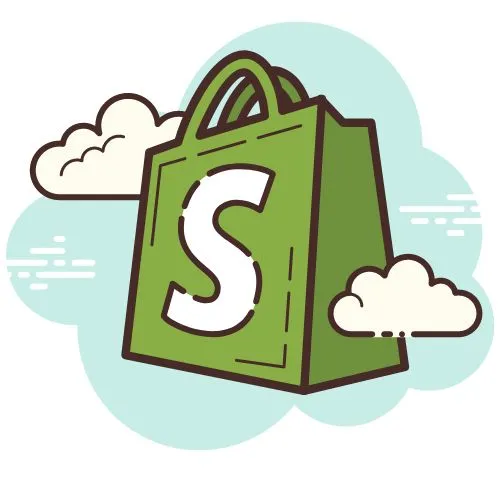 Shopify was built on the idea that everyone should be able to construct a website where they can sell goods, regardless of their level of design or technical proficiency. However, It allows you to alter things like CSS and HTML if you wish to, so if you have coding abilities, they might be helpful. Moreover, With a relatively short learning curve, you can quickly set up your own Shopify website and start accepting payments. You'll be guiding customers through the checkout in no time.
Although, Shopify is a hosted service, which is another thing to keep in mind. This indicates that Shopify's servers provide you with all of your capabilities. You don't have to be concerned about purchasing a web hosting or installing software. The concept is that you already have everything you need to start your store. However, Shopify is a SaaS product, so you don't actually own a copy of the program but can access it for a monthly charge.
What is WordPress?
You should first be aware that there are two different types of WordPress. WordPress.org as well as WordPress.com. While you host the.org version of the tool, a different business hosts the.com version. The hosted WordPress.com is a SaaS tool that you pay for with a monthly cost, similar to Shopify. This approach is more of an all-inclusive approach that you may use to create and manage a variety of websites.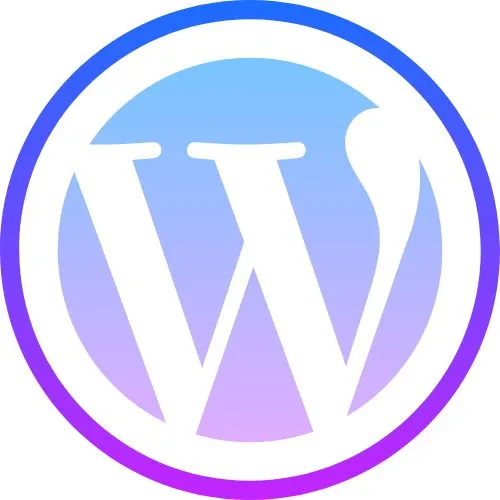 You will install WordPress.org on your own web server as e-commerce or website-building software. You can alter this open-source program as much as you want. WordPress.org is a very adaptable platform that is simple to use and customize, especially if you have experience with coding.
The WordPress.org solution is 100% free to download and install on your server, but there are fees associated with hosting that solution. WordPress hosting options are, nevertheless, quite accessible. Additionally, your WordPress website comes with a tonne of amazing features, like an Open-source eCommerce plugin for WordPress called WooCommerce. You can utilize the most effective content management system (CMS) to operate an online business thanks to this. WooCommerce is open-source, so you can quickly add custom extensions and modify any element of your business.
Your needs and degree of skill are the only factors that should be considered while deciding between the two platforms.
Shopify website vs WordPress: Pricing and Value
In our comparison of Shopify and WordPress, we'd like to start by discussing cost. Which offers more value for money—Shopify or WordPress, you may be wondering. Cost is frequently the most crucial factor for owners of eCommerce websites. You must analyze the startup costs while also taking into account the varying costs for additional services and software.
Shopify has unveiled new pricing options, including Shopify Plus, which has a quotable, negotiated price, and Shopify Lite, which has a starting price of $9 per month. When comparing your alternatives, take in mind that Shopify Plus is the most expensive version of the platform. With a 14-day free trial, the majority of Shopify's features can also be used before you decide to purchase them. Now take a look at the pricing table.
Pros+
Each of these subscriptions includes a web server and an SSL certificate.
It will include a subdomain with the Shopify brand on it, such as https://your-store.myshopify.com.
A new online store can be launched using the tools included in the basic plan.
Unlimited items, 2 user accounts, unrestricted file storage, and more are all available.
However, depending on the plan you select, the additional transaction costs charged for other payment methods range from 0.5% to 2%.
cons-
If you wish to utilize your own.com domain name in addition to Shopify pricing plans, you'll need to buy it individually.
A regular.com domain name costs an average of $14 per year plus an extra fee for each transaction.
If you want to use Shopify Payments, each transaction will cost you 30 cents and a credit card fee ranging from 2.4% to 2.9%. additional details.
To advance your Shopify store, you will need additional third-party tools and add-ons, which are not included in this pricing.
These expenses will start to increase as your business expands, and before long you'll be paying far more than the basic plan.
Now let's take a look at WordPress.
The cost of a self-hosted WordPress eCommerce website for your company is difficult to predict with any degree of certainty because there are so many different factors at play. The software to create a WordPress site can be downloaded without cost, but the ultimate cost of your e-commerce plan will depend on factors like:
1:Integrations
To manage their stores, many business owners use a variety of integrations and plugins. If that applies to you, some of your plugins can be expensive.
2:Themes
You must pay a fee for some themes and skilled designers, depending on the themes and designs you select.
3:Hosting
A wide variety of businesses offer to host, and many offer a selection of price options.
WordPress, on the other hand, can be used without cost. But don't let that fool you, once it's up and running, it's far from free.
Here, you can see how much everything will cost you to set up and how soon anything that appears to be free might cost you several hundred dollars.
WordPress Website Hosting Prices

Monthly Costs: Between $5 – $100
Self-hosted shared hosting: $5 – $20
Fully managed hosting: $20 – $150

WordPress plugin Price
Plugin One-Time Price: $50 – $1000
Monthly Costs: $5 – $150
Membership Gateway Software: $100 – $300 (one-time)
$50-$150 (monthly cost)
Email Marketing Software: $5 – $99 (monthly Price)
Payment Software: $100 – $500 (one-time)
$30 – $80 (monthly cost)
Prices for WordPress themes
One-time Cost: free to $5,000+
Basic Templates: $35 – $50
Premium Templates: $50 – $500
Template Alterations: $100 – $1,000
Custom Design: $1,000 – $10,000+

The price of WordPress Tutorials & Courses


Time to Learn Basics: A few hours
Time to Learn WordPress: Weeks
Monthly Costs: free to $200+

The fact that you can frequently find free alternatives to premium themes and paid addons is a definite benefit of using WooCommerce. By just investing in the tools and plugins that you actually require, you can also keep your expenses under control.
With so many free themes and add-ons available, WooCommerce is definitely the most affordable option.
WordPress vs Shopify: Apps and Plugins
Users on both Shopify and WordPress use third-party apps to add the functionality they need. Both platforms have their own app stores.
More than 7,500 apps are available in the Shopify App Store that you may utilize to increase the functionality of your website.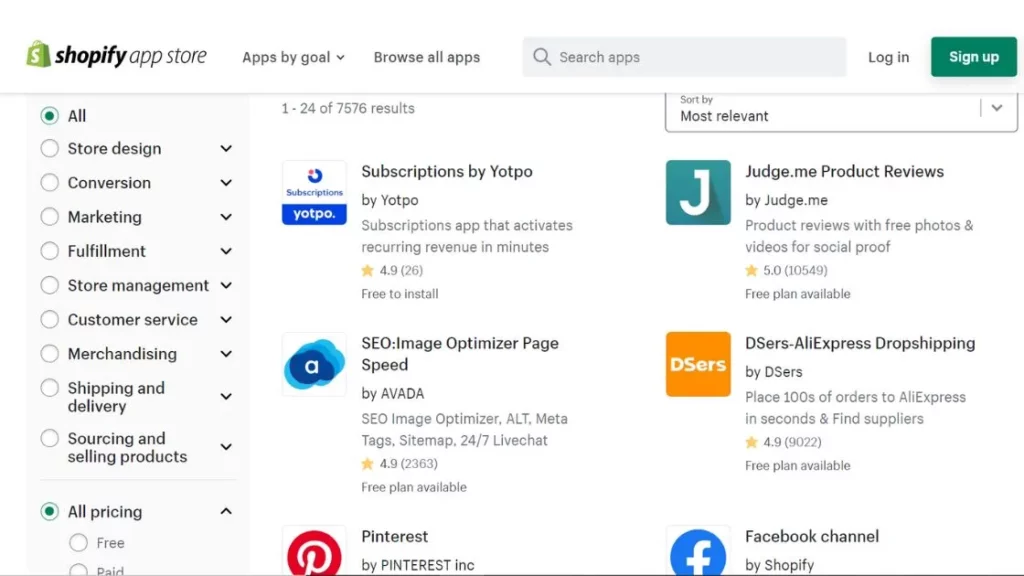 It's reasonable to assume that Shopify users need considerably fewer apps than WordPress users do. This is so because the platform already has e-commerce functionality and takes care of all necessary programming, security, and technological upkeep.
The selection of WordPress plugins, in comparison, exceeds 50,000.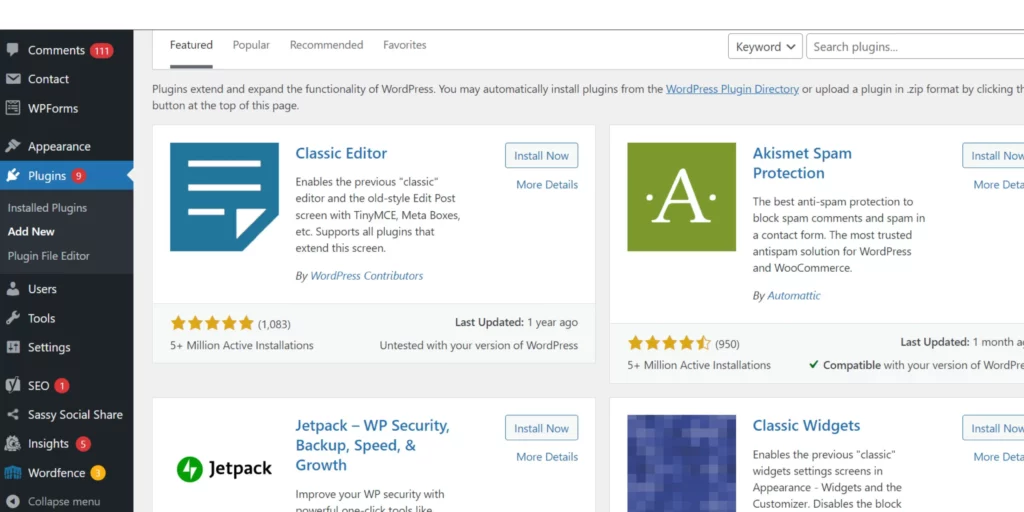 Users of WordPress are more dependent on plugins to provide the functionalities they require. And if you can't code, managing many of these plugins can be challenging. Additionally, some plugins require technical modification to have them play properly together because they don't function well together.
Shopify website vs WordPress: Themes and Design
Shopify offers 64 premium themes for between $120 and $180 in addition to 8 free themes. Additionally, Theme Forest offers 1,200 Shopify themes created by independent developers.
The themes from Shopify are pre-configured for sales. These themes are responsive and mobile-optimized, which means they adjust to the size of the device being used to see them. Additionally, Shopify's theme editor is quite simple to use. So, you can customize it to look precisely how you want without having to know any code or technical terms.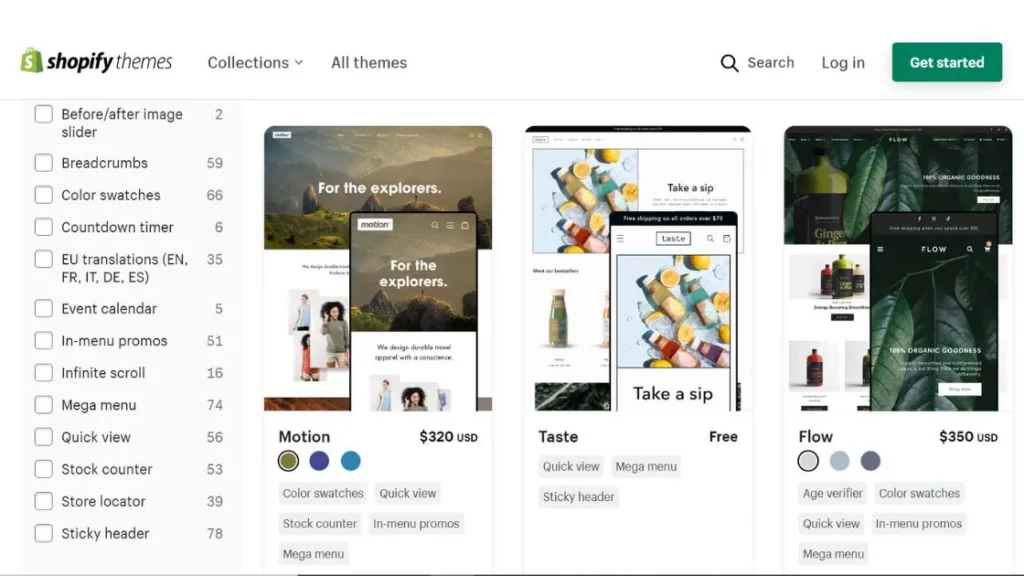 Additionally, Shopify assistance is available around the clock 24/7 in case you ever run into problems.
WordPress themes
WordPress offers more than 8,000 theme options, of which 50% have e-commerce features.
To get WordPress themes to function the way you want, they often need a lot of tinkering and editing. Because of this, you'll need either some basic coding knowledge to maintain them on your own or money to pay a web designer.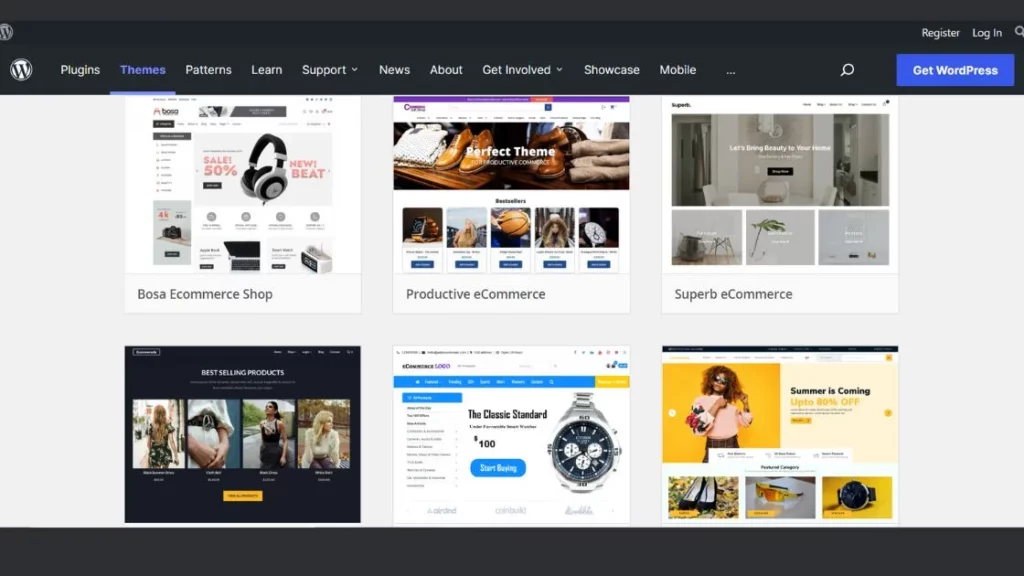 It's also important to keep in mind that the majority of WordPress themes are created by outside developers, so if you need assistance, you'll need to contact the theme creator.
Shopify website vs WordPress: Dropshipping Options

Well, so up until this point, we've largely discussed the fundamentals that you'll take into account when comparing the Shopify website vs WordPress. A vital component, dropshipping options, is still missing.
Although dropshipping won't be appealing to everyone, it is a simple option for individuals who wish to avoid handling and stocking their own products. Dropshipping significantly lowers the cost of operating an online store by having a merchant handle the shipping portion of your sales process for you.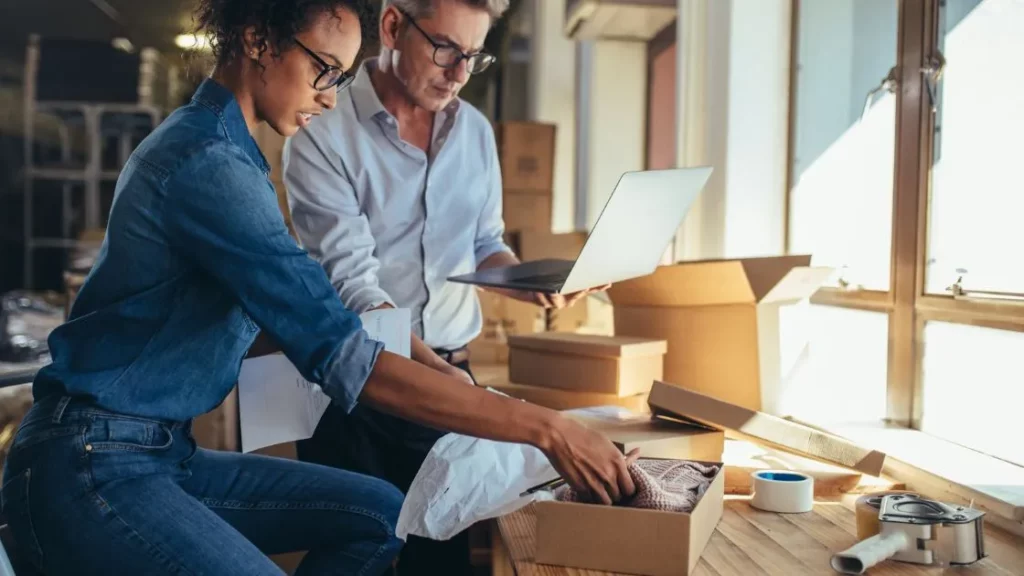 The simplest choice is typically to choose a plugin tool, which is true for both Shopify and WordPress.
The most well-known dropshipping service for Shopify is Oberlo. Finding things to sell, adding them to a Shopify store, and starting to sell right away are all made possible.
WordPress makes use of plugins for dropshipping, such as Airdropship, just like Shopify does.
There is no cap on the number of products you can list or orders you can place each month with this one-time cost plugin, which enables you to select the ideal merchants to finish your sales.
Because both Shopify and WordPress provide plugins to help you manage your dropshipping experience, it's hard to say that one is better than the other. The chances are that you'll be able to find a suitable plugin, regardless of the CMS that you choose.
Ultimately, your decision between Shopify and WordPress for dropshipping purposes will depend on which plugins you like the best.
When to use Shopify over wordpress?
Shopify stands out as a customized eCommerce solution for everyone. Everyone here refers to those who may lack technical or website construction expertise but yet want to be able to develop a killer online business on their own.
Working with Shopify has several advantages, but the biggest one is how quickly you can get going and start serving your first clients.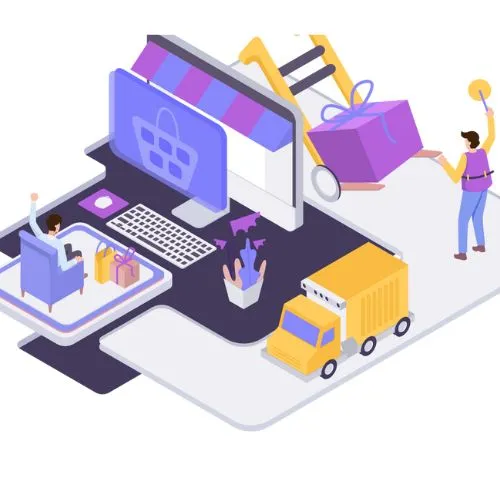 You don't need to have any coding or website-building abilities, and even if you did, you wouldn't need to be completely educated about the various aspects of the eCommerce industry. You can set up items like inventory, taxes, shipping preferences, and other things with Shopify. In other words, it fixes every last annoying problem with the company.
Second, Shopify is also a reasonably priced option. You need to budget $29 per month to get going. However, you get access to a lot of site designs and customization options for that price.
Briefly, Summing Up When to Use Shopify
You can choose Shopify if you match with one of the following options:
Firstly, (Use Shopify) If you don't have a website and need to quickly create a high-caliber eCommerce business.
Secondly, If you don't know how to design, code, or develop a website and don't want to hire someone to put up an eCommerce store for you.
(Select Shopify) If you want to combine your offline, on-location store with your internet store.
If you need a great eCommerce platform with customer support available, (choose Shopify).
If any of the above describes you, go for Shopify.
It also doesn't matter whether you want to sell physical products, digital downloads, services, or even drop ship. Shopify can handle anything. The number of products you offer isn't a factor either it's 1 or 1000.
When to Use WordPress Over Shopify?
WordPress is a powerhouse. It's nearly the perfect website platform, capable of running all kinds of websites.
However, there is a catch. I should say there are a few catches.
Software exists in the form of WordPress. In other words, you can obtain it for free, but you'll need to install it yourself on a web server, set it up, and then use it to establish a website.
WordPress' primary function out of the box is as a blogging platform. It offers absolutely no eCommerce functionalities. Those are accessible through plugins. like the well-liked WooCommerce.
To manage certain common options like SEO and social networking, you need a lot of other plugins in addition to the eCommerce plugin. To make your eCommerce store appear distinctive and creative, you also need a nice-looking and brandable theme design.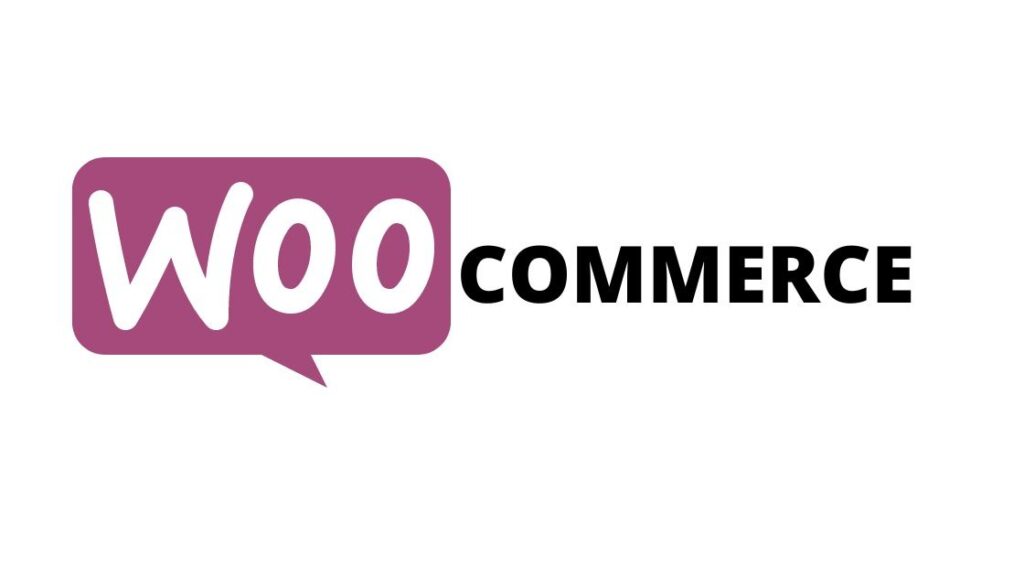 All of this suggests that WordPress might be an option for a user who is a little more tech-savvy. You must feel at ease manually modifying PHP files, establishing an FTP connection to your server, and spending a day in a settings panel.
The above WooCommerce plugin is a fantastic eCommerce plugin, so there. It offers every feature you could possibly need, including shopping carts, product catalogs, online payments, coupons, and more. What's most significant is that the plugin is free.
Briefly, sum up When to Use WordPress?
You can choose the wordpress if you match with one of the following options:
Firstly, (Use WordPress) If you already have a WordPress website and are comfortable using the user interface. For instance, there is no additional learning curve with WooCommerce because it uses the same admin panel organization for your products and orders.
Secondly, If you already have a WordPress website and want to cut costs by forgoing further investment in a new eCommerce platform (choose wordpress).
(Use WordPress) If you occasionally feel comfortable working with source code.
If you can manage without any immediate customer support go for (WordPress).
If any of the above describes you, go for WordPress.
Wrapping up: Shopify website vs wordpress comparison
Choose WordPress and the WooCommerce plugin if you're an expert web developer who wants total control over every aspect of your website. Your website's hosting, maintenance, and security will all be your responsibility, but you can customize and optimize every part to your heart's content. Use WordPress.com to establish a simple personal project, such as one for testing, sharing your thoughts, a hobby website, etc. You don't need to worry about any maintenance, the setup is simple, and you can get started for free.
About that last part: Right now, you might feel that customer support is not such a big deal. But keep in mind that it's your business we're talking about here. For example, if something happens that causes your site down, not having it online for the whole day can and will mean a serious hit to your business income and reputation. Also, a lot of stress while we're at it. Which one you decide on ultimately comes down to your budget and skill level. For us, the ecommercefix team Shopify is the better overall platform for e-commerce websites. You have everything you need to be successful and grow, all packed into one, easy-to-use dashboard.
We hope that this Shopify website vs WordPress comparison has given you a clear understanding of the major differences between these two industry leaders. Although both Shopify and WordPress are fantastic systems, which one should you choose for your business? comment us below and comment down also for any query about your business we will be happy to answer your questions.