In the beginning, I will tell you that If you're a business owner who doesn't have a website because it's too difficult to make one on your own, or you've been quoted good money to have one built for you, this article is key for you. Google My Business has finally walked in to save the day, offering solutions to each of these issues and more. Add website to google my business to attract your local customer more easily with maps directions free how does that feel?
Anyways, we wanted to know how customers utilize Google My Business listings, local business websites, and business directories to get information about local firms and which sources of information consumers trust the most. To do so, we gained the support of a panel of 600 US-based customers to express their thoughts on how to choose and participate in local businesses using Google My Business and business websites.
If you have any questions or comments about the report's results, please leave them in the comments section below or contact us.
Add website to google my business
Connecting your Google My Business Listing (a.b.c. Google Places ) with your website is one of the most crucial steps in optimizing your website and business to appear in Google Search and Google Maps results. Now to get listed on Google and to connect your Google listing to your website so that they are in sync, follow these steps:
Step 1: Set up your Google My Business / Google profile in the first step:
Firstly, you can only accomplish this step because it requires you to call or send a postcard to verify your company's location follow the steps below.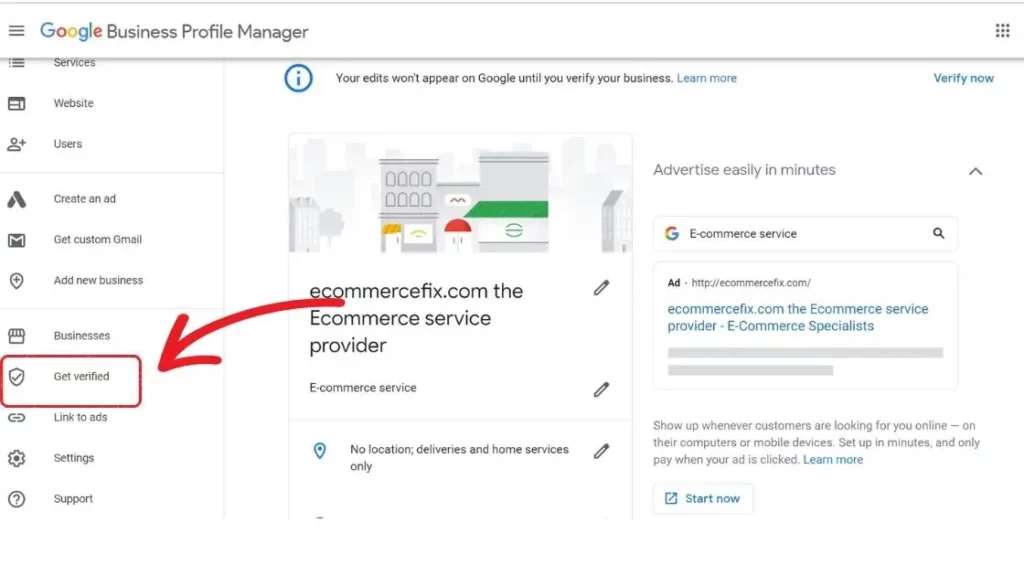 Click "Get on Google" at google.com/business.
It will prompt you to sign in with your Google Account (which is the same as your Gmail account) or create one if you don't already have one.
It will walk you through validating your business's location on the map
You can skip this step if you've already created a Google my business page or registered through Google Places.
You will build (or may already have) a Google my Business Page for your business as part of this procedure.
Step 2: Connect your Google my business profile to your website: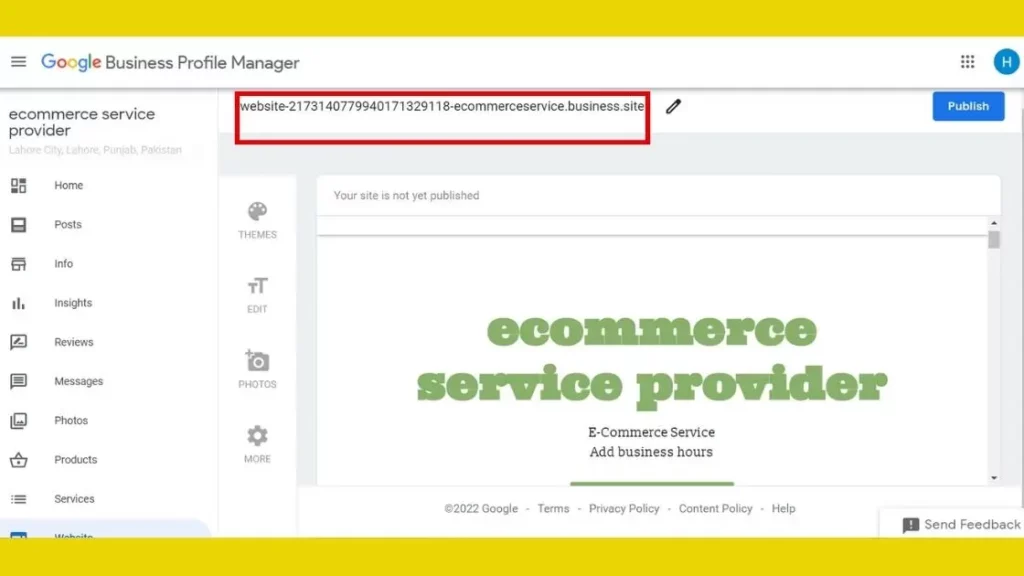 Well, there is simple method to add website to Google my business profile by doing the following:
After getting verified:
Step 2:
The first step is to go to Google Maps and search for your company's name.
That can be done on any device. Simply type your company name into a search field and click on it.
You will notice a number of options under your business name, such as save, nearby, and so on.
Select "share" from the drop-down menu.
You'll find a number of options for sharing your location on your website. Make sure to select "Embed a map" from the drop-down menu.
Copy the HTML code from the "Copy HTML" button and paste it into your website.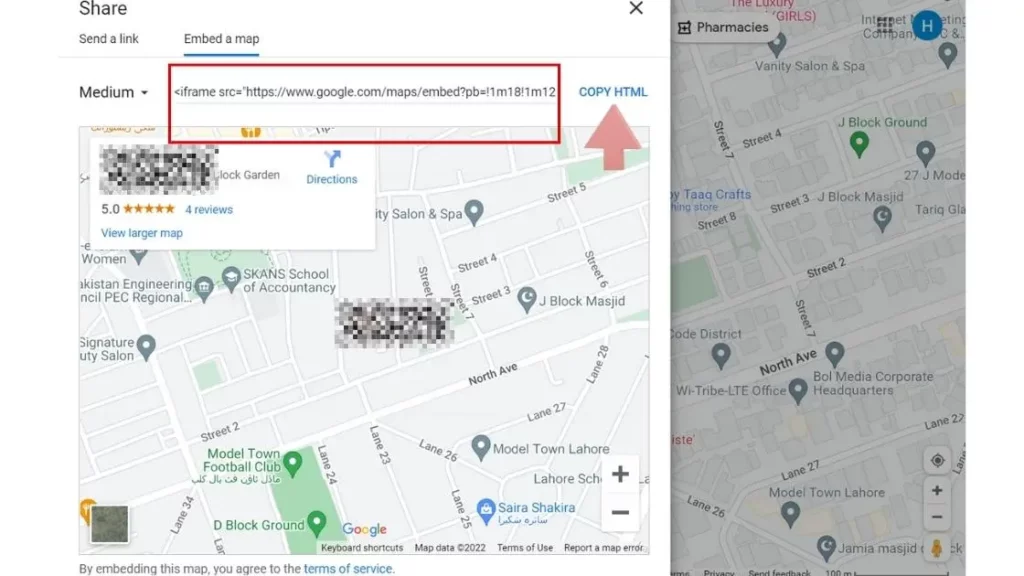 Done! Your Google listing and your website are now linked. Over the next several weeks, you should notice an improvement in your search ranks.
What steps should you take to create your own Google My Business website?
Step 1:
If you have a Google My Business account, you may establish a website with relative ease right from your account.
If you haven't yet claimed your Google My Business listing, you'll be given the option to develop a website as part of the sign-up process.
Log in to Google My Business and select Website from the drop-down option.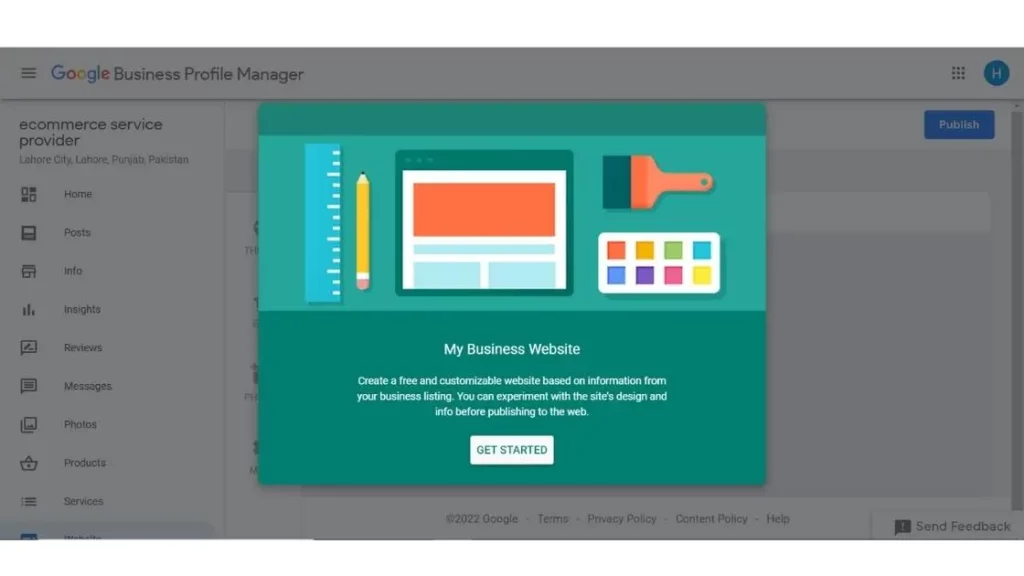 Step 2:
Simply follow the setup wizard's instructions.
In order to populate your Google My Business page, Google will go over your information, photos, and other facts.
You can then alter the theme, add some Google Posts, a business description, and up to nine (9) photographs.
You can add a menu if you're a restaurant or cloth store. Other elements you might include on your website are:
Activist appeals
The header navigation
Image for the banner
a brief summary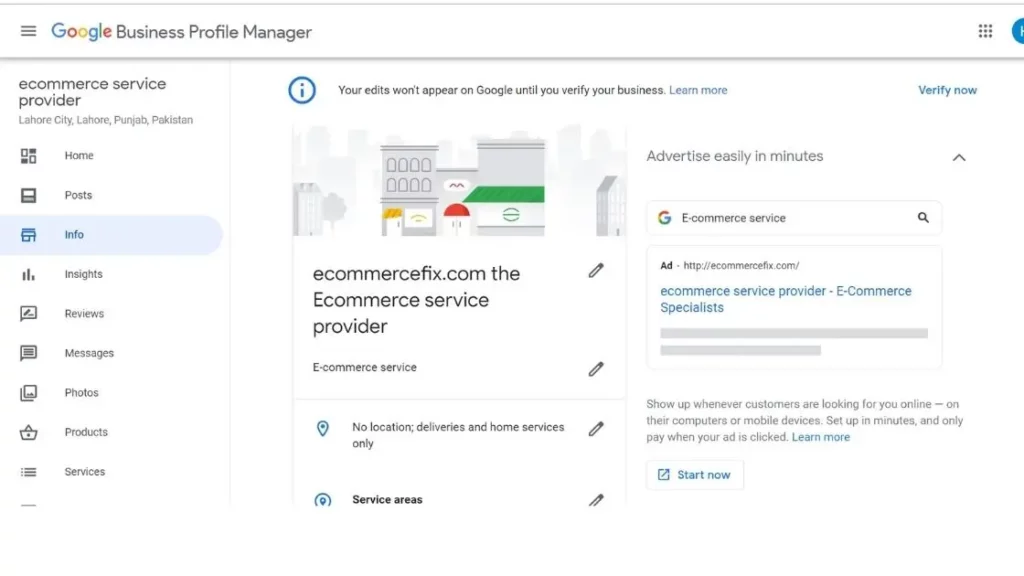 Step 3:
Once you're happy with your layout and details, click Publish.
When you launch your website, you can buy a domain from Google Domains or use your own if you already have one.
"What if I already have a website?" you might ask.
The benefits of using Google my business for your existing website are given below:
While we understand that firms like yours are likely to have their own dedicated website, there are several advantages to having a Google My Business page. Because each link you post to your Google My Business profile is a real backlink, you may utilize the GMB website to link to specific pages on your website, increasing your chances of ranking better in search results and simplifying your buyer's journey.
Secondly, it presents the most critical facts about your business that may not be available to your followers on social media, a Google My Business website can be used as an alternative to your social media platforms.
Moreever, This is not a replacement for your website; rather, it is an extra asset that, when done well, can encourage your clients to choose your company over others.
How to Create a Google My Business listing for your company.
Step 1:
Create your business listing in the Google profile manager.
If you already have a listing then skip step 1, and click the button "Connect your listing". Otherwise, start directly with the steps below.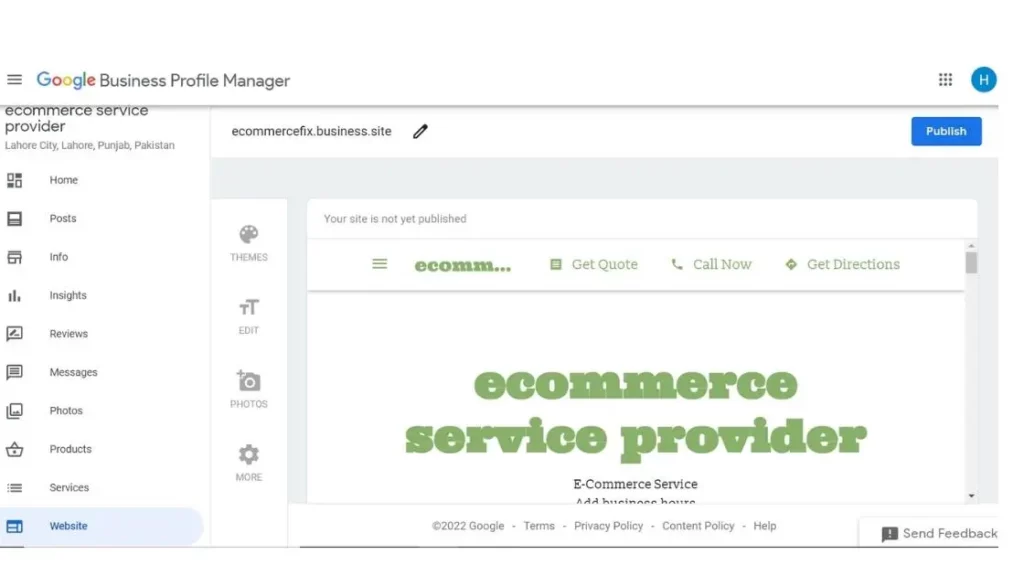 Step 2:
Sign in to your Google account.
The next window will show you which information will be shared with domain name.com by connecting to Google. Click Allow.
Confirm your choice by also clicking Allow in the following window.
If you already had a Google My Business listing before, you can now choose to import the information to your Website Builder.
By following these steps you can connect your Website Builder site to Google My Business listings. You can either create a new listing or connect your already existing listing to your Website Builder site. By connecting your website to Google My Business, your contact details and opening hours in Website Builder are automatically synced to your listings on Google. That way, when someone is looking for your business, you are sure that they see the right information.
Google Business Profile is a free Google business listing. It enables you to provide information and photographs about your company, such as its location, services, and products. Creating a free Google profile is a terrific method to boost your visibility across all of Google's services.
In conclusion, with a Google Business Profile, you can choose how your local business appears on Google products such as Maps and Search. Your Business Profile can help people find you if you run a business that serves consumers at a specific location or within a certain service region.
---
Frequently ask questions
Where can I get my Google Business Profile website's URL address?
Like we did in the first part of the article follow these procedures to obtain the URL address.
1. Go to Google Business Profile Manager and sign in.
2. Select "Website" from the left-hand menu.
3. Your site's URL address should be something like your business-name.business.site and should be at the top of the page.
Why is it necessary to supply more URLs?
By encouraging people to perform the following, adding URLs to your Google My Business listing can result in more interaction with your listing:
Obtain a menu
Make a purchase.
Check out the special offerings.
Make a reservation.
See a list of the services available for example (such as remote consultation)
Disclaimer: Some links from third-party services (such as HookNook) are automatically displayed on Google My Business listings, and they cannot be altered from the Google back end. If a listing contains both a URL registered by the listing owner and another URL from a third party, the listing is considered duplicated.
What Is Google My Business Management and How Does It Work?
"Google My Business is a free and simple tool for businesses and organizations to manage their online presence across Google, including Search and Maps," according to Google. You can verify and update your company information to assist clients to find your business and tell them your story."
What are Google My Business's Most Popular Features?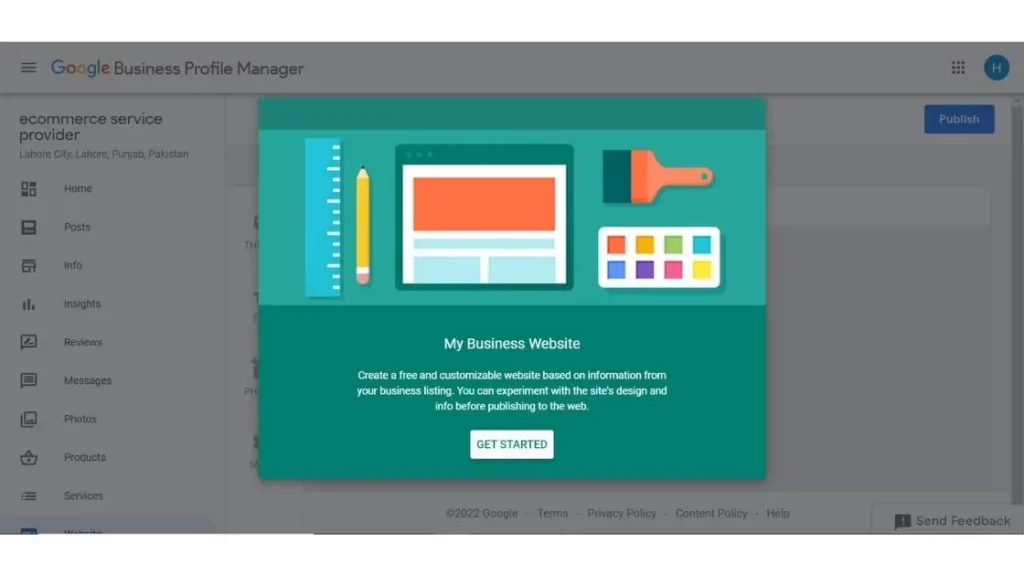 Looking for hours of operation
looked up routes
Reading reviews
Looked at a business's website
Viewing a business's images
Booked a hotel room
Looked at a company's Popular Time
I made a reservation at a restaurant
Made a phone call using the 'Call' button
posted a review
How To Manage Your Google My Business Website Review of My Company?
Open Google Maps on your computer.
Click Menu in the upper left corner.
Your contributions can be found by clicking here. Reviews.
Click More next to the review you want to update or delete.
Select Edit review or Delete review from the drop-down menus and follow the on-screen instructions.
Is it possible to sell your products or services using the Google Business Profile site?
No, you can't because there isn't a way to pay or show the products and services. However, by the time when Google's Shopping services mature, such functionalities may become available later.
Lastly, If you found this article useful comment down below and ask any query about Ecommerce Business Ecommercefix team will be happy to share solutions.
---